Palmers Green Driveway Repairs
Looking to power wash or repair your Palmers Green driveway or patio?
Congratulations you've found the Palmers Green Driveway Repair Experts!
First 4 Paving offers a professional cleaning service to bring your driveway or patio back to life. We clean and restore a wide variety of surfaces using a 'chemical free' industrial strength pressure washer system. Block paving and tarmac driveways over years can collect dirt, oil, weeds and sometimes bulge or break.
Ant nest infestations can be effectively eradicated and driveway repairs made to the damaged area. Invasive weeds can also be treated and safely removed.
Moss, Dirty and Oil can be effectively removed. Replacing the grouting and re-sanding damaged joints.
Why choose First4Paving for your Driveway Repairs in Palmers Green?
All of our driveway repair work is fully guaranteed and we are comprehensively insured.
Our dedicated Palmers Green driveway team have a wealth of experience in repairing and cleaning your driveways in the Palmers Green and surrounding areas. Call Palmers Green on 0800 145 5065
Re-sealing Repairs for your Driveways in Palmers Green
In addition to deep cleaning your hard surface, our expert Palmers Green driveway fixing team can also seal your hard surface with specialist sealant. This will prolong the cleanliness of the surface for up to 3 years.
The sealer is also "low odour" enabling sealing to be carried out in close proximity to livestock/pets.
The sealer will also enable your Palmers Green driveway to be pressure wash machine cleaned more efficiently, keeping that "new look" for longer.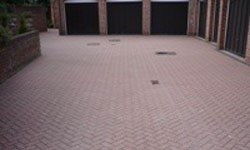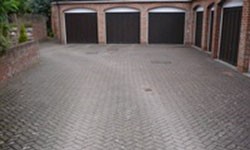 Looking for a service other than Palmers Green Driveway Repairs?
We also provide the following:
Not in Palmers Green, but still need Driveway Repairs?